Working harder so you can work smarter
Our industry leading pharmacy software is specifically designed to help your pharmacy team work smarter and is continuously evolving to work harder for YOU.
This customer-centric PMR system gives you a dashboard that allows you to manage your pharmacy simply and efficiently with actionable intelligence, so that you can spend more time concentrating on patient care.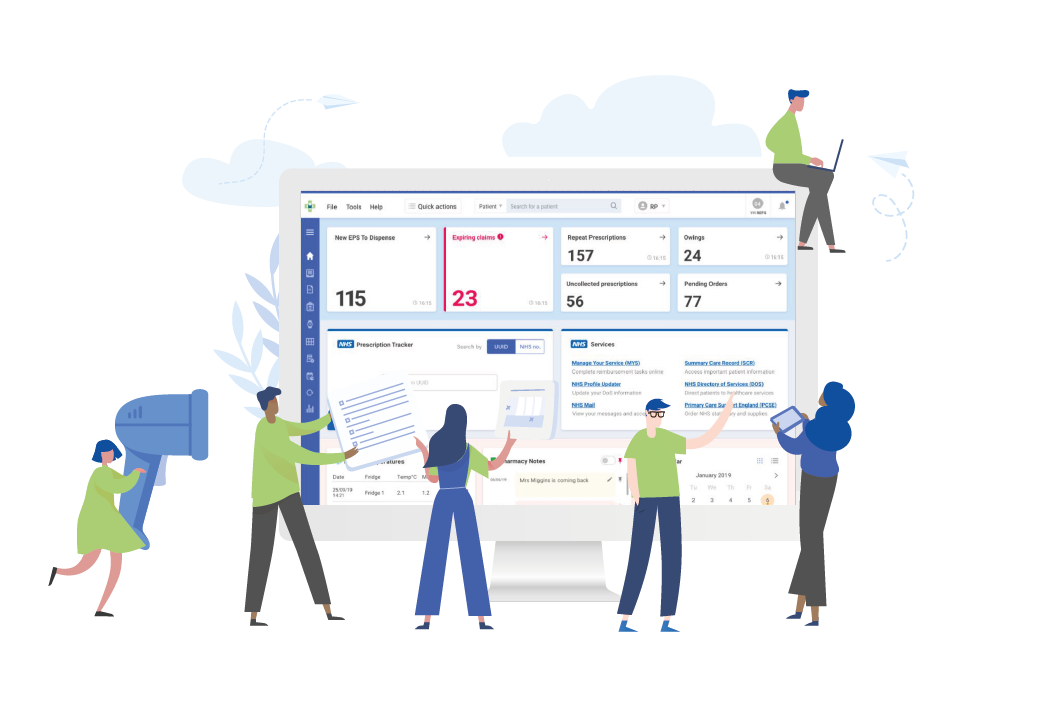 Benefits of Pharmacy Manager
Designed with you in mind
Intuitive dashboard for easy navigation and giving you actionable intelligence

Innovative and scalable user interface for the perfect user experience

Dynamic tiles and real time colour coded notifications– alerting you to key areas of attention

Efficient, accurate dispensing, clinical checks and management of medicines

Complete stock visibility for enhanced ordering and control
Full picture of patient's health and medication history via Integration of the Summary Care Record

Real time exemption checking (RTEC) and one click integration to the NHS prescription tracker

Reporting tools and data management

Run and process effective patient communications

Easy access to a host of handy features including calendar notes, fridge temperatures and quick NHS links
Take a look at our latest video on Pharmacy Manager
Pharmacy Manager Modules
Created by the Cegedim Healthcare Solutions team, these additional modules have direct integration with the Pharmacy Manager PMR and allow you to realise efficiencies, increase cost savings and generate additional revenue whilst supporting you in providing a better level of care for patients. With modern user interfaces and simple to use, these modules are designed to help your pharmacy team work smarter.
Take a look at what our customers are saying
Nathan Douglas –

Victoria Pharmacy
Allan Green – Weldricks
FAQ's
How much does it cost?

Our pricing is dependant on the needs within your pharmacy. We have a flexible model and we really like to understand your requirements before we create a bespoke proposal. We offer a complete IT solution, but tailor to what you need and what you don't. Book a meeting with our team to understand more.

What other new features are you currently looking at?

We are geared towards continually driving efficiencies in pharmacy across a number of key business areas, ultimately helping pharmacy teams provide exceptional patient care whilst reducing pharmacy costs and increasing their profit.

We have dedicated teams that are aligned to key areas of pharmacy business, for example; Stock & Ordering, Patient Management & Services, Automated Dispensing & Fulfilment, Pharmacy Intelligence and of course Dispensing Services. All teams are pressing ahead with new functionality and delivering at pace.

We recognise that now, more than ever, smart efficient technology is essential in the pressured pharmacy environment and we remain focused on delivering our promises as quickly as possible.

For more details on our roadmap, please book a meeting and our Customers Success Managers will be more than happy to share further details with you.

How can Pharmacy Manager assist pharmacists in delivering ongoing care in such shifting working conditions?

Our latest releases are focused on pharmacy time savers which will have an immediate impact during this exceptionally busy time. We have also taken steps to develop solutions that would support pharmacies in the event of a necessary site closure as a result of COVID-19.

We have launched a free Learning Zone full of bite sized video content to help quickly upskill pharmacy teams on our pharmacy software. The Learning Zone is accessible anywhere and on any device, so pharmacists can refresh their PMR knowledge on their commute, at home or within the pharmacy.

There's lots more ways we are supporting pharmacists delivering ongoing care in changing times. Get in touch with us for more details.
Want to Learn More?
Fill out the form below and one of our experts will be in touch to discuss more on how we can help.